Work on your relationship... but make it fun...
We're always told that relationships are hard work.. but who wants to do hard work? Of course, we avoid it!
Instead, we make working on your relationship FUN, exciting, and you see the results!
Whether you're laughing more, talking more, understanding each other better, or just really enjoying each other's company, the resources available in The Relationship Collection will help you do just that.
INCLUDED IN THE COLLECTION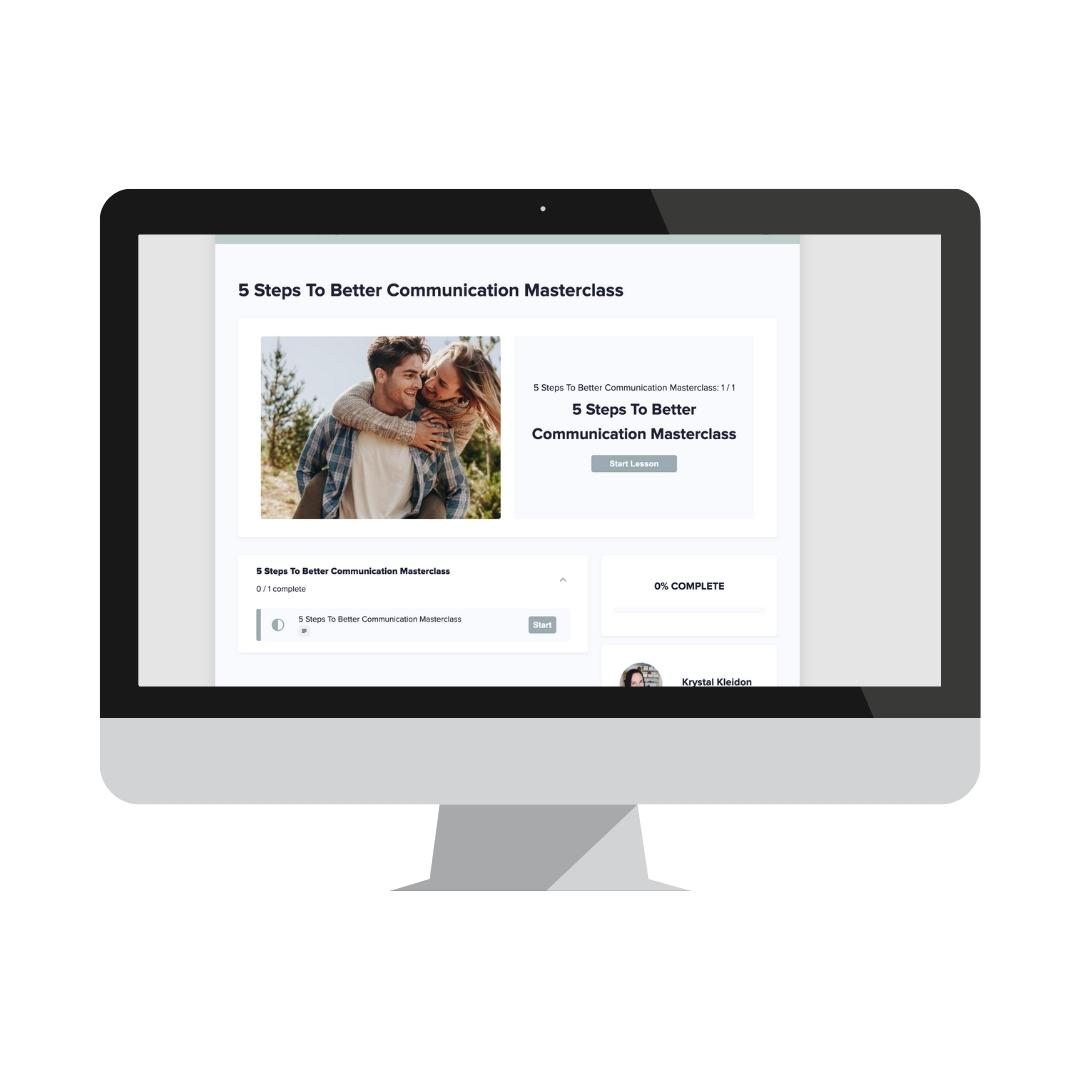 5 Steps To Better Communication Masterclass
In this Masterclass you'll learn all about the 5 simple steps you can take to communicate better in your relationship.
Oftentimes we overcomplicate simple things, like communication, and when day to day life takes over, talking to each other takes a backseat.
This Masterclass will have you talking more, talking better, and understanding each other more in no time.
Valued at - $10
100 Questions To Ask Your Spouse Workbook
The ultimate question workbook! Our super popular 100 Questions To Ask Your Spouse Workbook can be printed and used for date nights, Valentine's Day, anniversaries, or anytime you want.
The best part is that you can print it again and again so you can redo the workbook and see how much your relationship changes and evolves over the years.
Valued at - $10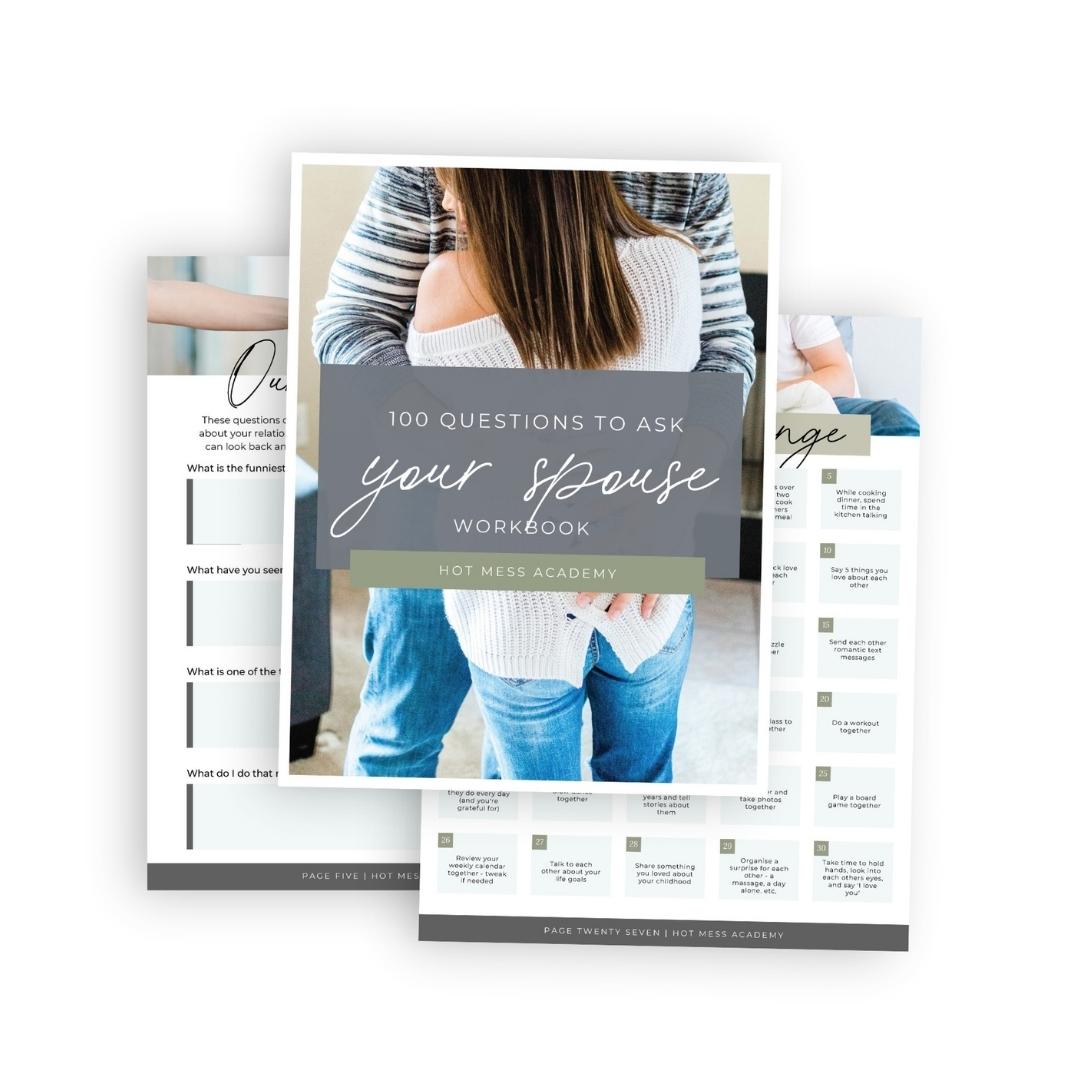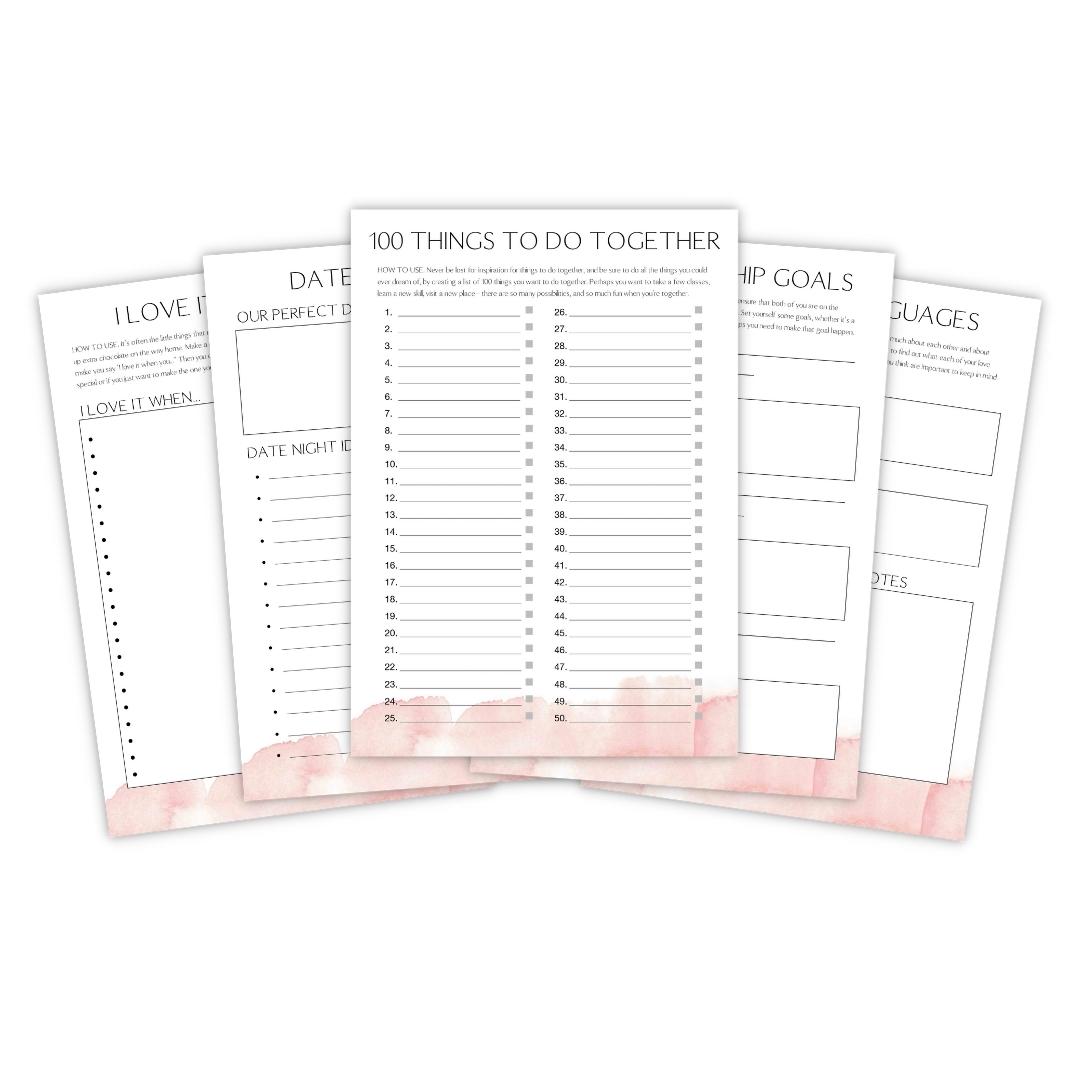 The Relationship Planner
The most popular planner we have ever created!!
Our Relationship Planner is jam-packed with fun lists, printable pages, and communication strategies for couples.
Designed to be FUN, this 30 page planner helps you to focus on your relationship.
Valued at - $15
120 Conversation Starters - Printable Cards
Our brand new, not available anywhere else, printable conversation cards will ensure you never run out of conversations again!
These conversation starters are designed for married couples, but can be used by any couple (and some can even be used as journaling questions for yourself!).
Print them up, cut into cards, and draw a question at random!
Perfect for date nights, Valentine's Day, road trips, or even as a daily conversation starter for you!
Valued at - $10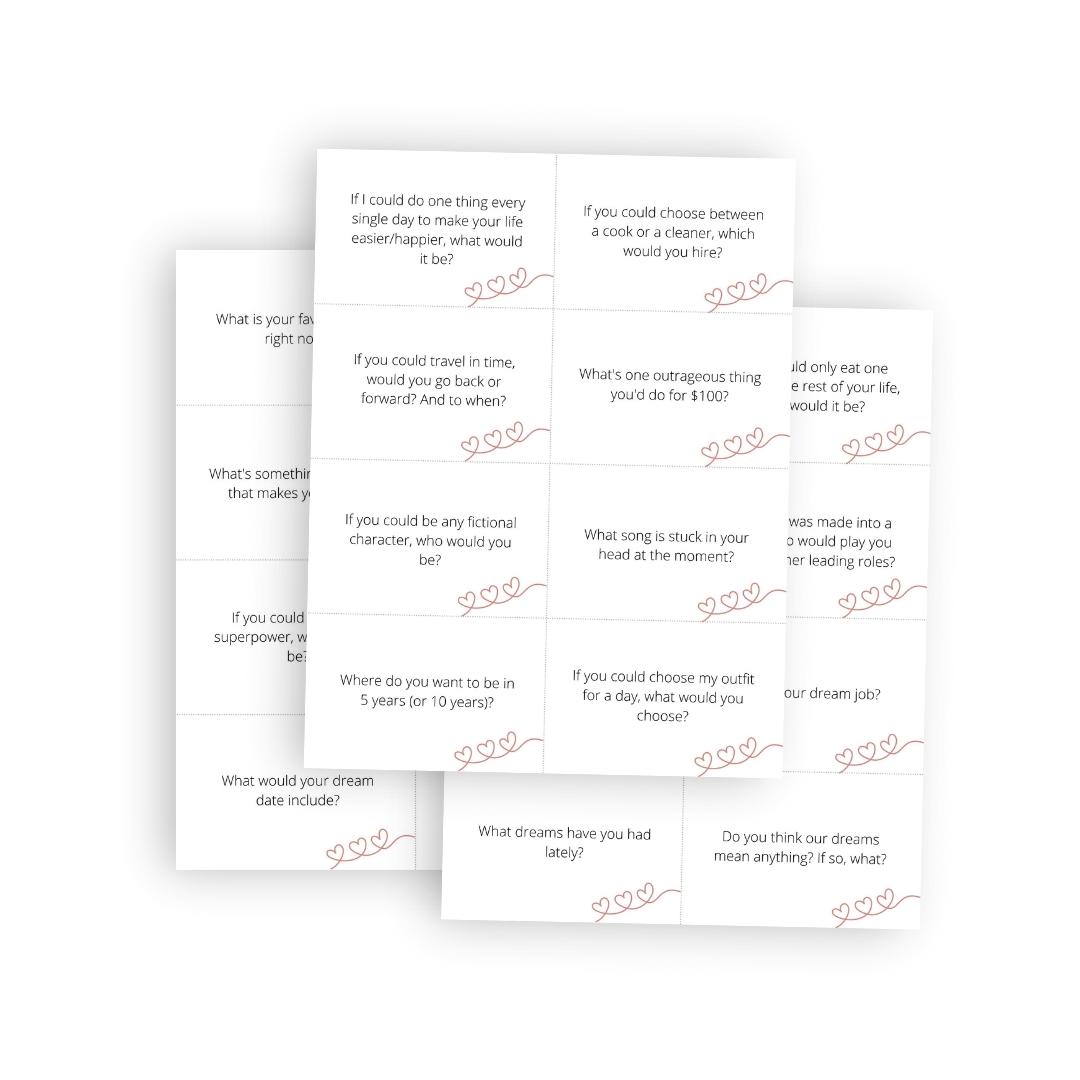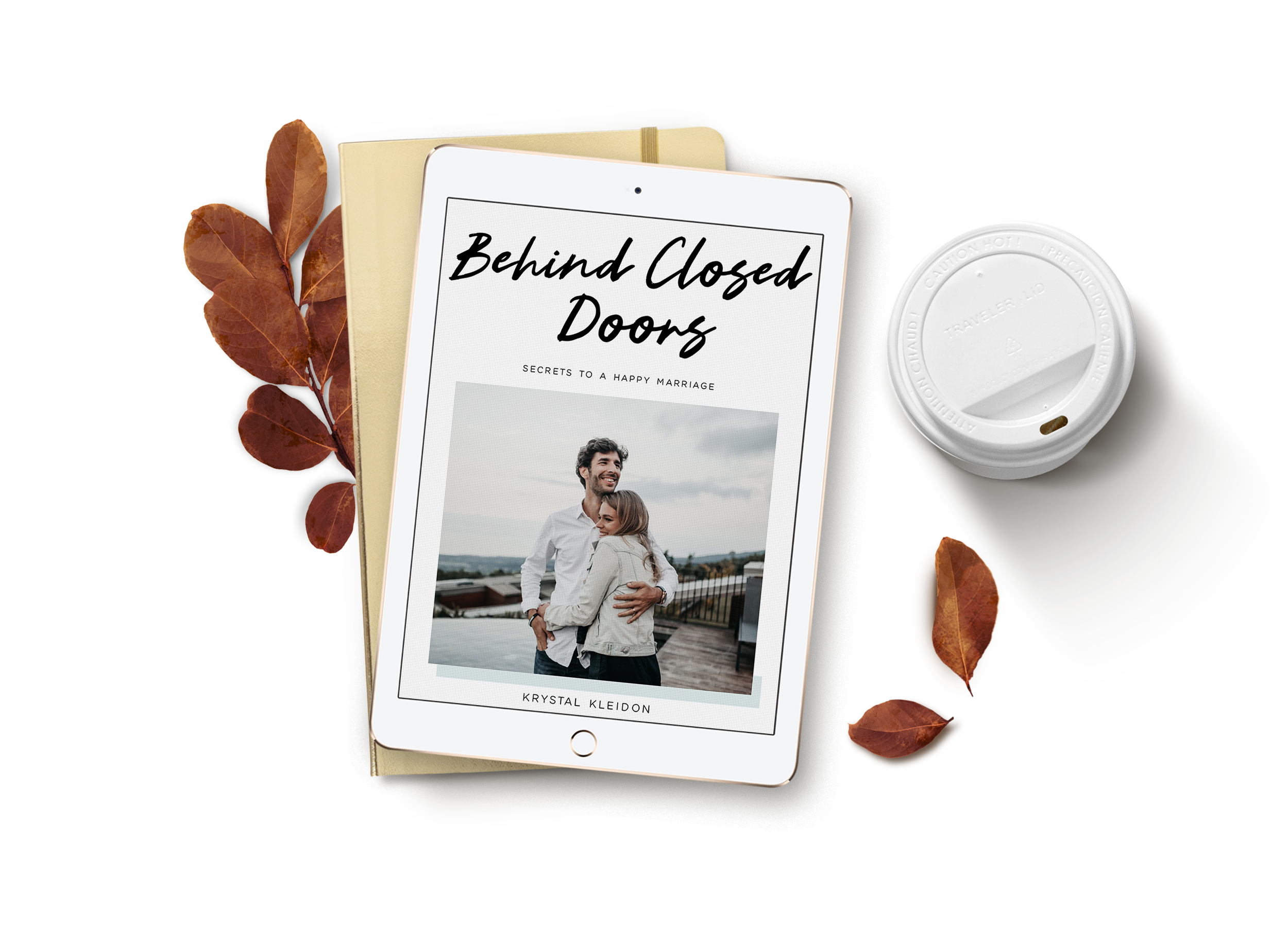 BONUS: Behind Closed Doors; Secrets To A Happy Marriage eBook
What is it that makes a happy marriage? What separates the 'successful' from the 44% who get divorced? What is the 'secret' and can you have it in your marriage? 
This isn't your average marriage 'help' book: it's not about the 'one right way' to do marriage, it's not about a set of rules or exemptions, it's not a step by step what to do. But it is:
- Taken from the experiences and responses of over 1000 people
- Incredibly relatable - for all stages of marriage
- Designed to start conversations about marriage - the more we talk, the less we feel alone
- An outline of common themes in happy marriages - and themes of marriages that aren't so happy too
Valued at - $12
Want more resources, printables, and masterclasses to help you take control of your life?
Our Project Hot Mess Membership is just for you - your space where you can take some time to work on you, learn how to take control of different areas of your life, and feel good about getting organized. With 22 classes, 4000+ printable planning pages, 1000+ printable journal pages and so much more, the Project Hot Mess Membership is just what you've been looking for.